Horse trails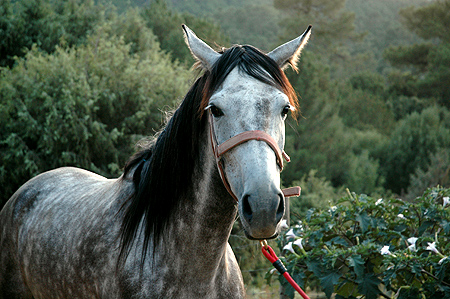 In the Iruelas Valley, equestrian tourism is also offered with boarding and introductory classes or horse riding.
To do these excursions it is not necessary to know how to ride since they have suitable horses for each degree of experience. And for the little ones there is the possibility of enjoying an authentic donkey ride through the countryside.
Equestrian tourism in the Valle de Iruelas Natural Reserve includes excursions, routes of one or more days, horse boarding, introductory horse riding classes and riding stables. The horses are fully equipped, accompanied by an instructor guide and there is civil liability insurance and a support vehicle if necessary.
The best thing about making a horseback ride through the Iruelas Valley is precisely that the guide who accompanies the visitors knows every corner of this spectacular paradise perfectly. Walking on the back of a horse is a very relaxing way to access remote places and enjoy interesting walks in the middle of nature.
The routes can be short or a whole day, always accompanied by professionals who know the most beautiful scenery and the most accessible routes.
Riding a horse, within an active tourism activity, does not require too much knowledge: it is only necessary to heed the advice of the monitor and carry equipment where some basic protective measures should not be lacking, such as comfortable clothing and footwear.
Donkey rides are other means of transport that have become popular in certain localities, as a complement to other activities offered by tourism companies, and as a way to value a species of equine in danger of extinction.
Prices include: equipped horses, instructor-companion guide, S.R.C., support vehicle if necessary.
Prices:
1. One hour route: € 20
2. Two-hour route: € 35
3. Half day excursion: € 70
4. Full day excursion (food included): € 100
5. Full moon nights excursion: € 48
6. Children's pony ride: € 15
  Other services offered at the Valle de Iruelas Equestrian Tourism Center:
1. Introductory horse riding classes
2. Pupillage (long and short stays)
3. Sale
Contact person: Juanjo. Telephone: 685 542 884.
HORSEBACK ROUTES OF EL TIEMBLO:
Recently in El Tiemblo, Fuentecaballos offershorse riding, teaching English and environmental activities, horse riding, teaching English and environmental activitieshorse trails sImplement or introductory horse riding courses , where the student can acquire basic knowledge about horses in order to enjoy them more and better. The theory taught is as follows:
The morphology of a horse
The five senses of a horse
Language and behavior
Care that a horse needs
Food, health and cleaning
And practice:
Common sense and safety rules
Approaching a horse
Drive the horse
Clean and brush
Horse equipment
Saddle and bridle
Assemble and disassemble
Riding position
Exercises on horseback
Basic aids for horse control
Three gaits: walk, trot, gallop
In theEnglish classes for adults preparation for:
Stays abroad
Job interviews
Presentations
Recovery and exam preparation
Animal English for kids: The aim of these courses is to create a fun place where you learn to use English naturally and spontaneously. All content revolves around the animal world. Pronunciation and oral command of the language are especially worked on. Limited places
MINIMUM AGE: 7 YEARS. General contents:
songs
Reading (stories, magazines, poetry)
Writing (own stories)
Games
Prices:
  1. Individual riding lessons or English 18 € / hour
  2.Horseback riding: To consult
Sorry, but this activity has stopped.
HORSEBACK ROUTES OF THE ADRADA:
  The La Espuela Equestrian Center, located in La Adrada, also offers the possibility of guided horseback routes through the Tiétar Valley in which the tourist will enter through pine forests and cross beautiful rivers and streams.
They offer boarding, dressage, a complete riding course, initiation courses adapted to the level of each rider …
Prices include: equipped horses, instructor-companion guide, S.R.C., support vehicle if necessary.
1. One hour route: € 20
2. Two-hour route: € 40
3. Riding class: € 24
4. 10-hour tour voucher with a guide; 180€
5.10-hour riding lesson voucher: € 210
6. Complete riding course: 380€
7. If you accept any type of accommodation package plus activities that we offer, you can enjoy a 10% discount on this activity and all the comforts of Casa Rural Abuela Benita, Cebreros – Ávila.
They can book by calling the La Adrada equestrian center (Olga or Rafa): 647 681 086.
 EQUESTRIAN TOURISM IN THE SIERRA DE GREDOS:
Endless trails and natural routes depart from the Avila town of Hoyos del Espino to travel and discover while hiking, horseback riding or cycling. The company Gredos a Caballo, pioneers in Spain of equestrian tourism, invites lovers of rural tourism and nature to do so on horseback.
Hoyos del Espino is located in an incomparable natural enclave surrounded by the beautiful landscapes that occur in the Sierra de Gredos National Park, between lush pine forests cooled by the Tormes river. There are activities that make this area a privileged place, where you can enjoy the magic of contact with nature in its purest form.
For more than twenty-five years, the company Gredos a Caballo has been carrying out routes in the Sierra de Gredos, in favor of the use of the royal gullies, even expanding the routes to Soria, Cáceres, Salamanca, Zamora, etc. We must highlight the hospitality of the people, the gastronomy of the area, and, of course, the nobility, resistance and the spectacular gallops of the horses with which you can participate in excursions of several hours or even several days.
The sounds of silence, the colors and smells surround you and transport you to another state, to another time, eternal and of infinite sensations as you walk the roads, the ravines and the routes in an incredible communion with nature. The animals, excellent specimens tamed with skill and care, accustomed to the imperfections of the terrain, obey orders instantly.
In this activity the public of all levels and ages can participate together with an expert rider, a pioneer of equestrian tourism in Spain and awarded a few years ago with the Tourism Award of the Provincial Council of Ávila, who not only accompanies us through the most beautiful areas and isolated, but also informs about the peculiarities of the terrain, its history, its climate, the orography, the gastronomy and the customs of the place.