Quad routes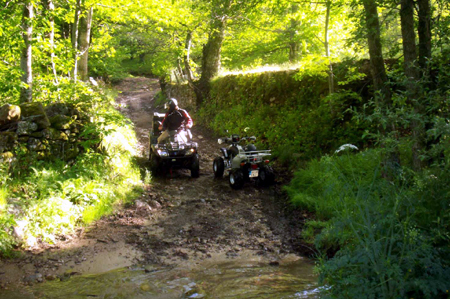 We're sorry, but this activity has been temporarily stopped.
With the motto "a tree for each route" and with the purpose of reforesting burned areas of forest, there is a company in Sotillo (Ávila) dedicated to active tourism in the Sierra de Gredos and in the Valle del Tietar.
They offer quad routes, buggy routes and quad and 4×4 routes together with the company from El Tiemblo. In addition, they organize company events for up to 20 occupants.
Half an hour from Cebreros, the clients of Casa Rural Abuela Benita, will be able to enjoy the wonderful views that the south face of the Gredos mountain range offers us aboard a complete quad and all this with a 10% discount.
Route of the squeezes: 55 € / 2 Hours
Although none is of an expert level, this route runs through ravines with a height of 1,700 meters and river beds, making it one of the most complete on offer.
Castle Route:55 € / 2 Hours
Due to the state of the terrain, this semi-sport route delights users. The gravel, the wide roads and the good slopes of each curve will make you enjoy like a dwarf.
Plains route:€ 30/1 Hour
This route is for all those who have not tried it yet and want to start. Flat sections, without any difficulty and suitable for the hearty.
Multi-adventure route: € 85/6 Hours + food
Just what you were looking for to spend a fun day. A three-hour quad bike tour and a two-hour hiking excursion. How good a good sandwich feels at an altitude of 1700 meters and with the Tiétar Valley as a tablecloth!
Quad + Off-road Route: from € 99/5 Hours (minimum group of 8 people)
The activity begins, departing from Sotillo on a quad bike to Las Cruceras del Valle de Iruelas, there we get on an SUV and visit the entire chestnut grove of Tiemblo. An activity for motor and mountain addicts. You will not regret this adventure.
If you take advantage of some type of accommodation package more activities than we offer, you can enjoy a 10% discount on these activities and all the comforts of Casa Rural Abuela Benita, Cebreros – Ávila.
Quad + Spa Route: € 80 / 3.5 Hours (2 hours of quad and 1 and a half of Spa).
To start in the morning, enjoy a fabulous quad route through the Sotillo area. We will visit an old Arab route that linked Toledo with Castilla, a path that with the passage of time has ceased to be used and has been invaded by the fantastic nature that predominates in the area.
After two and a half hours on the road we have earned a well-deserved rest, which you can take advantage of to enjoy the typical gastronomy of the area and taste a good suckling pig.
After an adventure on a quad bike, what does the body ask of you?
Well, she is crying out to relax at Spa Natura Sotillo.
Here you will enjoy a Spa circuit with: PEDILUVIO, ROMAN THERMA, TURKISH BATH, OXYGENATION JACUZZI, JACUZZI DE JACUZZI DE JACUZZI DE JACUZZI DE JACUZZI DE JACUZZI DE JACUZZI DE JACUZZI DE JACUZZI DE JACUZZI DE JACUZZI DE JACUZZI DE JACUZZI DE JACUZZI DE JACUZZI. the Fairies. Decorated like a grotto, it is guarded by Elves, Fairies and Gnomes.
WHERE WATER IS LIFE. What better way to enjoy, relax, cleanse the body and tone the body on any given day and give yourself that whim you were looking for.
Quad + Balloon Route: 235€ per person (balloon flight + 4X4 in the morning + 3 hours of quad).
In the morning, baptism in a hot air balloon at 2,200 meters above the city of Ávila and its surroundings. On landing, a 4X4 vehicle takes us to the starting point. In the afternoon, ascent by quad to the highest point of the Sierra de Gredos.
RECOMMENDATIONS:
It is advisable to come equipped with robust boots, such as mountain boots, and if possible also bring a spare shoe, since it could get muddy in the rainy season or get excessively wet.
In summer it is advisable to wear light clothing and long-sleeved shirts to protect yourself from the sun, just as recommended is a scarf, of the panty type, to protect yourself from the dust that is produced when passing through dirt roads.
Regarding the rest of the equipment: helmet, gloves, protections and suitable clothing for cold seasons, they are provided by the company in question.
They are easy to handle vehicles, but it would be advisable for the first route to be two hours, since in one hour there is hardly time to become familiar with the quad and from the second hour is when you really start to enjoy its driving.
It is very important to follow the advice of the monitors along the route at all times for the proper functioning of the route and to avoid incidents.
It is also very important to book the routes well in advance, since there is a lot of demand and if this is not done it is difficult to get the date you want.