Gastronomy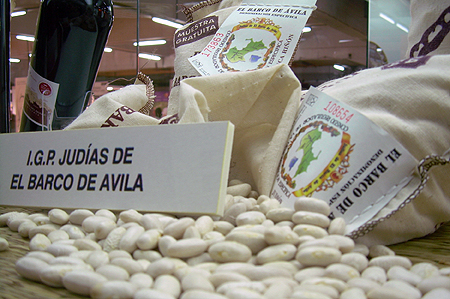 Gastronomy is one of the values ​​of the province of Ávila: traditional dishes and natural products are those that simple and homemade preparation is not incompatible with quality and flavor. 
In the different establishments and restaurants of Cebreros you can enjoy the delicacies of Cebrere and Avila cuisine, savoring the typical dishes that are prepared in the province, always accompanying them with a good local wine. Casa Rural Abuela Benita has a perfect location to get around on foot.
If you prefer to enjoy gastronomic tourism in the province of Ávila, at Casa Rural Abuela Benita, we have a useful guide for all our clients.
What's more, Staying at Casa Rural Abuela Benita, you can enjoy a 10% discount on the prices of the menu at different restaurants in Cebreros (Gure Ametsa, El Castrejón or El Rondón) and Ávia (El Sol, Hostería de Bracamonte or Tres Siglos) .
On the other hand, if what you want is to spend a quiet stay without having to cook, we can recommend a catering that will serve you food directly at Abuela Benita. They can consult here information.
The gastronomy of Cebrera and Avila is based on the typical products of the land. As an example, the famous beans from El Barco de Ávila, the potatoes revolconas with torreznos, the garlic soups and the gray soups, the roasts of lamb, kid and veal, the famous Ávila steak, the stew, the tanganas, the civiérgueda, the tripe …
We have tasty vegetables and fruits from the Vega del Alberche: tomatoes, green and white beans, peaches, apricots, watermelons, pears, figs, figs and, of course, the albillo, garnacha and chelva table grapes.
We can taste the delicious chanterelles that are collected in the mountains and pine forests of Cebreros with the arrival of autumn.
In Ávila and Cebreros, the gastronomy has a variety of typical desserts and sweets: rice pudding, fried milk, huesillos, sequillos, buns, mantecados, flowers, twisted, donuts, torrijas, muffins, donuts or donuts and the delicious balls. What to say about the wonderful yemas de Ávila?
The sweet flavors of Spanish Holy Week
Spain is flooded with the fervor and spirituality of Holy Week, a traditional festival that commemorates the death of Christ and also fills the tables with exquisite delicacies.
A fundamental part of Spanish culture is its food. Stews and typical dishes are another way to share in celebrations, parties and meetings. At Easter, the sweet flavors offered by traditional pastries become essential for the palate. They are home-made recipes, deep-rooted and simple elaboration to enjoy these days in all corners of our country.
Undoubtedly, on these dates it is a must to taste the torrijas that are consumed throughout Spain: slices of bread, soaked in milk, sugar and egg, which are fried in oil. Depending on the liquid used to bathe them or its presentation, there are other variants, all delicious: there are wine, in syrup, with honey or sprinkled with sugar and cinnamon.
The Easter flowers will be just as attractive, due to their peculiar shape: large, delicate and with a sweet and crunchy texture. And if you are in the Castilla y León area, on Sunday you will discover a tasty custom: having hornazo. It is a bread dough filled with ingredients such as egg, loin and ham, although there is also a sweet version, made with almonds, sugar, anise and egg.
The Easter donuts, fried milk, pestiños or buñuelos are other delicacies that you can savor at this time. At Easter, Spanish homes, patisseries and restaurants recover old formulas and recipes to prepare appetizing and colorful sweets. Take advantage of these days, enjoy a unique party in our country and, of course, be sure to try the authentic delicacies that await you on the tablecloth.
If what you want is not to move from home, at Casa Rural Abuela Benita there is the possibility since there are different options to order food at home, from the delicious pizzas or baguettes from the Curro bar to an exquisite menu prepared in the Basque restaurant Gure Ametsa ("Our dreams") or at the El Rondón Hospitality School or at the El Castrejón restaurant.
WINES FROM CEBREROS
Thanks to the privileged conditions of Bajo Alberche, the Mediterranean microclimate that exists in Cebreros and the edaphic conditions of the land, vineyards are produced that provide high-quality wines, with high alcohol content, full-bodied, closed color, fruity and low acidity. . Our enology allows us to obtain white, red, rosé, claret, mistela table wines and special rancid, flavored, muscat wines, etc. The sweet red is the one that has given us the most fame.
The new PDO Vinos de Cebreros comes to certify the quality of our wines. In addition, the areas of the Tiétar Valley and the banks of the Alberche include wines with a Specific Denomination of"Wine from the Land of Cebreros", for being this the capital of the region.
Wine route in the Cebreros region:
The Cebreros wine region is located in the southwest of the province of Ávila. It rests between mountainous areas and hills where there are abundant masses of pines, oaks, rockrose and bushes. Land dedicated to the cultivation of vineyards and olive groves, reaching its maximum altitude in the southwest, in the Sierra Merina. It is the only wine region in which the Garnacha variety predominates.
Although the olive tree is one of the pillars of the economy of this region, the production of oil is completed with the cultivation of the vine, the production of wines and alcohols together with the tanning and ceramic factories.
Cebreros is the nerve center of the production area and the town that gives it its name. Today it preserves part of the old Franciscan convent, where its tower and the Elizabethan doorway stand out.
Very close is, already in the fertile valley of Alberche, El Tiemblo, one of the many places where you can practice water sports. The reservoir is only a few kilometers away and offers many possibilities. Of its urban ensemble, the 16th century parish church stands out.
Towards the southwest, the natural space of Valle de Iruelas, on the eastern limit of the Sierra de Gredos, touching the Burguillo reservoir. A little further on appears El Barraco, a town that preserves an important cattle hut and where the hermitage of La Piedad, built in the 15th century in carved ashlar stone, and the church of Nuestra Señora de la Asunción dazzle.
Navalmoral de la Sierra stands out for its popular granite architecture and its 16th century church. The same occurs with Burgohondo, a Romanesque church considered one of the oldest in the province.
Navaluenga, an important enclave of the wine-growing region, has a beautiful Romanesque bridge over the Alberche river, where it is possible to practice canoeing and bathing in the summer months, in fact it has an important, very busy river beach.
One of the towns that best preserve their popular architecture is Pedro Bernardo, on the slopes of the Sierra de Mijares. Where a short distance away appears La Adrada with the remains of its castle and the church of San Salvador from the 16th century, clearly influenced by Herrera.
The areas of El Tiernillo, Hoyo de Pinares and the Valleys of Alberche and Tiétar also make up the towns of Hoyos de Pinares and San Juan del Molinillo. Navalmoral de la Sierra is also worth a visit, along with Navatalgordo or Casavieja.
Mushrooms, autumn delicacies:
In Spain, when autumn arrives, there is also a real treat for the palate: mushrooms. At this time, if you go to the market you can find a variety of edible mushrooms. And even better, many bars and restaurants prepare special menus or include recipes based on these delicious berries in their menu.
With the rains, the forests and mountains of Spain become a singular "pantry"in which it is possible to find numerous species of edible mushrooms. After passing through the kitchen, they are transformed into a succulent snack or a tasty accompaniment, capable of enhancing the taste of any dish. It is a food low in fat and with a high percentage of water, but it is delicious. Mushrooms also admit a multitude of ways of preparation: baked, sautéed, battered, fried, grilled, in salad, cooked, as a garnish …
During these months, restaurants take the opportunity to offer their customers a wide range of stews and recipes in which mushrooms are the main ingredient. The same happens in bars and taverns, which usually include tapas and mushroom rations among their daily specials. It will be the best time to enjoy this rich and healthy dish.
You can download a pdf with typical recipes from the gastronomy of Ávila.
Mycological tourism:
During this time, you will not be short of opportunities to get to know mushrooms, both at the table and outside of it. In many towns of Ávila, mycological days are held, during which courses are held to learn to distinguish them, tastings and guided outings to the field. There are also regional or local mycological associations that organize activities and excursions with experts.
It is common to find localities with a diverse mycological offer, ranging from trails and specific activities, to establishments such as bars, restaurants or rural houses.
Autumn has a lot of flavor, that of mushrooms, and in Spain it is very easy to discover it. Enjoy your meal!
As an example for gastronomic tourism in the province of Ávila and Cebreros, we can recommend the active tourism product offered by the Parador de Turismo de Gredos (Ávila): An Introductory Course to Mycology:They are routes on mycology aimed at anyone who is fond of mycology or who simply has an interest in the world of fungi. Those who attend these conferences will be able to know its enormous gastronomic possibilities, learn to distinguish between the main edible mushrooms and their"toxic resemblances" and to value the prominent role that fungi play in maintaining the ecosystem.
The unbeatable location of this Parador provides a good start to delve into the exciting world of mycology.
For those who want an independent collection and consumption of mushrooms, we have some recommendations:
Mushrooms that are not well known should not be collected or eaten. In the event of doubts or ignorance, it is necessary to refrain from consuming them and if they are collected it will only be for their classification and identification.
Check their identity one by one, because very similar toxic and edible species often share a habitat and fruiting season. If you are not completely sure you have to discard them.
Do not take mushrooms in excessive quantities given their poor digestibility. Do not keep them too long without consuming them, most of them decompose quickly. There are species that can only be eaten cooked.
We must be selective, not picking mushrooms in quantities that we are not going to consume, nor picking them aged, immature or parasitized.
The consumption of mushrooms that grow in ditches, industrial areas, hedges and city parks or in soils enriched with chemical fertilizers, is extremely dangerous due to the ease that fungi have, due to their rapid growth, to accumulate heavy metals and other pollutants. .
In case of poisoning or suspicion of it, go to a health center urgently. There, if possible, information on the species consumed will be provided and the available remains of the mushrooms will be provided. Do not forget that some types give symptoms early, but others cause the first symptoms after several days.
Avoid making homemade canning because of the danger of botulism. If they are made, preserves made in acidic media (vinegar) are safer, and they must be treated in an autoclave or pressure cooker, and always taking extreme hygienic conditions in the production process. The ideal is to heat them before consuming them.
In addition, certain rules are essential in its collection, such as not removing the soil with rakes or other utensils to locate hidden specimens, since the vegetal layer is altered, destroying the mycelium of the fungus. Unknown or toxic species should not be harmed. All are necessary for the proper development and conservation of forests and are part of its wealth, and its ecosystem.
The species to consume once they are correctly identified should be collected, mostly, cutting them at the base of the foot with a knife or razor. They must be extracted intact for further study.
It is also necessary to collect only those mushrooms whose development allows their identification, and it is not appropriate to extract very young or old specimens. Small ones will continue to grow and in addition to continuing the reproductive cycle, they will better develop the characteristics of their species, thus allowing a more secure identification and less confusion with toxic species.
The ideal system for transporting mushrooms is in containers that allow their protection and aeration, as well as the spores falling outside, such as the traditional wicker basket.
It is false that all mushrooms that grow on wood, on forest slopes and margins or in meadows and pastures where cattle graze, are edible, that only those that change color when cut are toxic, that all those that have a ring are toxic . Edible mushrooms, large and delicious macrolepiotes and edible amanitas, such as Amanita caesarea, have this element, that they are not toxic if they taste and smell are pleasant, that cooking removes all toxins, that the blackening of a silver spoon or of garlic cloves indicates toxicity or that maceration with vinegar or salt eliminates toxic substances.
GASTRONOMY IN CASTILLA Y LEÓN:
Gastronomy constitutes one of the most outstanding tourist resources in Castilla y León. The geographical extension and the climatic and environmental conditions allow the development of a very diversified agriculture and livestock with varieties and autochthonous breeds from which an excellent raw material of contrasted quality is obtained.
Castilla y León has a good number of agri-food products with various quality figures, about 50 referring to meats, sausages, cheeses, legumes, fruits and vegetables. These products, together with the careful and expert preparation of the cooks and restaurateurs of Castilla y León, make our gastronomy one of the richest, most appreciated, complete and varied in Spain.
Along with traditional dishes made from old recipes that have been perpetuated over the centuries, it is possible to find in Castilla y León a new, more innovative and modern cuisine that investigates and develops new recipes based on tradition and quality. of the products, these are great gastronomic creations of important restaurants and chefs who make eating a true art. Here is a cookbook with recipes from Castilla y León.
The importance of quality wines in Castilla y León is so important that it would be difficult to understand the history of this community today without its presence, which, apart from its economic relevance as a first-rate agricultural and rural development resource, also contributes with decisive importance to the strengthening of the tourism sector.