Roman bridges of the Alberche river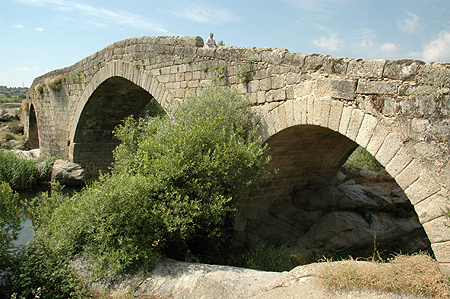 Very close to Valsordo, following the path towards the Alberche river, we find the Roman bridges that rise over the same river, an old border area between two Roman regions of Hispania: Lusitania and Tarraco.
At the entrance of each of them, on stones, the name of the bridge is specified and what the owners should be paid for the cattle to pass through them. They have information panels.
There are remains of the old medieval clazada. The first bridge, with three eyes and very majestic, had the name "Valsordo bridge" and belonged to the bishopric of Avila. In a monumental stone before passing the bridge we read the following inscription: "All the cattle lords know that between the honored council of the mesta and the lords of the council of Ávila sat on the pass from the Valsordo bridge …"
The inscription also says that 43 maravedíes and a half will be charged for every thousand heads that pass.
The second bridge, that of Santa Yusta, has only one eye and is much simpler than the previous one, but both bridges were vital to cross the Alberche River in the continuous travel of large flocks of transhumant sheep.